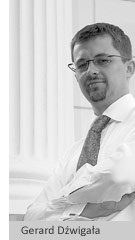 Gerard Dźwigała is a legal adviser of the Regional Chamber of Legal Advisers in Warsaw and a tax adviser of the National Chamber of Tax Advisers. He graduated from the Faculty of Law and Administration of Warsaw University.
In 1998-2006, he cooperated with Spółka Doradztwa Podatkowego Manugiewicz, Trzaska i Wspólnicy Sp. z o.o. (Manugiewicz, Trzaska and Partners Tax Consultancy Company - Polish limited liability company) with its registered office in Warsaw. From 2003 to 2006, he was a Partner of this company.
In 2006-2007, he continued his tax practice in the law firm Radzikowski, Szubielska i Wspólnicy, which is a branch of an international law firm - Chadbourne & Parke LLP.
Since August 2007 he has been a Partner in Dźwigała & Ratajczak Law and Tax Firm - Polish registered partnership.
He is the author of numerous articles about taxes in newspapers such as Rzeczpospolita, Przegląd Podatkowy, Prawo Bankowe, Prawo i Podatki.
Co-author of "The Commentary on the Act on the corporate income tax" published by Lexis Nexis in 2007.
In 2007, Gerard Dźwigała was enumerated among 15 Polish tax advisers recommended by the readers of the Gazeta Prawna daily as a result of an all-Poland ranking of tax advisors (Gazeta Prawna No 21 of 30 January 2007). Another all-Poland ranking of tax advisers prepared also in 2007 by the Rzeczpospolita daily (Rzeczpospolita No 143 of 30 January 2007) placed Gerard Dźwigała at the fourth place among tax advisers specialising in corporate income tax advisory services, and at the fourth place among tax advisers specialising in VAT tax advisory services.
Speaks English.