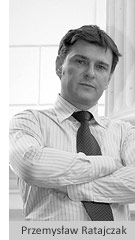 Przemysław Ratajczak is a legal adviser of the Regional Chamber of Legal Advisers in Warsaw. He graduated from the Faculty of Law and Administration of Warsaw University. In 1996, he completed Post-graduate Treasury Studies, and in 1998 passed the exam required to become a fiscal control inspector.
In 1994-1999, he worked for the Fiscal Control Department of the Ministry of Finance, inter alia in 1998-1999 he was the Head of the Multi-worker Post for Legal Opinions, providing legal services to the fiscal control administration.
In 1999-2007, he cooperated with Spółka Doradztwa Podatkowego Manugiewicz, Trzaska i Wspólnicy Sp. z o.o. (Manugiewicz, Trzaska and Partners Tax Consultancy Company – Polish limited liability company) with its registered office in Warsaw. From 2003 to 2007, he was a Partner of this company.
Since August 2007 he has been a Partner in Dźwigała & Ratajczak Law and Tax Firm – Polish registered partnership.
Co-author of articles on taxes in the following journals: Przegląd Podatkowy, Forum Doradztwa Podatkowego, Prawo i Zabezpieczenie Społeczne.